COMMON FOLDS
So you figured out how you want to fold your brochure, but what do you call it? Take a peek at this handy guide, so you can let us know exactly what you want. Don't see a fold that describes what you need? Reach out to us for creative folding ideas to take your project to the next level.
download PDF

chevron_right

chevron_right

chevron_right
2-Panel Fold
BIFOLD
As its name indicates, this brochure contains two panels with enough space for lengthy text or large images.
3-Panel Fold
TRIFOLD
The trifold is folded twice to create three panels for a short, visual, and informative brochure. It is the most popular folding option.
3-Panel Fold 
Z-FOLD
This commonly used brochure has six printed panels on both sides.
3-Panel Fold 
GATEFOLD
The gatefold has two cover panels that open up to reveal a larger third panel.
4-Panel Fold
ACCORDION FOLD
This brochure fold forms a zigzag pattern.
4-Panel Fold
DOUBLE GATE FOLD
This fold is similar to the gate fold, with an extra fold in the center. It is also known as a closed gatefold.
4-Panel Fold
DOUBLE PARALLEL FOLD
This fold is folded equally in half then folded again in the same direction.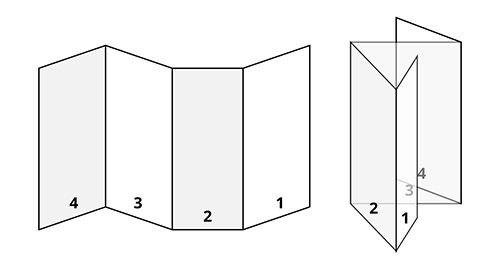 4-Panel Fold
ROLL FOLD
Roll fold is folded three times from right to left. Each panel is directed to fold toward the left.